Collaboration between B-Chill and Goodvibe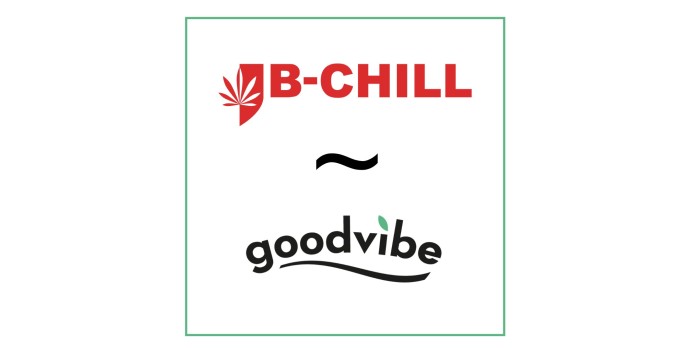 B-Chill featuring Goodvibe - Together on the road to sustainable development
B-Chill has made a name for itself throughout Switzerland and represents sustainability, permaculture and organic farming like no other CBD company. In the beautiful mountains of the Valais, a young group of friends got together and made their visions come true. Far from the fast and lucrative hybridization of cannabis strains, we are moving towards a long-term co-creation concept for man and nature. 
At Goodvibe, as a close partner of B-Chill, we have put the same values on our flag: sustainable, social and positive. Since 2019, the Goodvibe CBD webshop is the first B-Chill wholesaler in german-speaking Switzerland and we can be proud of that. In the meantime, we supply the excellent B-Chill products to specialist shops, kiosks and via Galaxus to direct end customers.
CBD grown in permaculture by B-Chill at an altitude of over 1000 metres
B-Chill is about establishing a permanent and sustainable culture, as the word permaculture already says. At over 1300 metres above sea level, the beautiful Valais offers optimal growing conditions with plenty of sunshine and pure mountain air. A lot of sun is an understatement, as the Valais is the region with the most sunny days per year in Switzerland.
But let's take a brief look at what permaculture actually is. The theory was developed in a concrete way in the 1970s. The main concern is to create a holistic design system for humans and nature. Mankind has been practising this in various places for much longer, even if it was not yet called that. Later, however, industrialisation came along and strongly encouraged monoculture and independence from the social and ecological environment.
Permaculture summarised at the biological level means that different plants, beneficial insects and nutritious soil interact in symbiosis. In this way they maintain the diversity of nature and enrich it at the same time. Environmental conditions as well as social and economic circumstances are also included in permaculture.
Thus, on the one hand, B-Chill focuses on organic and sustainable conditions, but also on a social, sustainable and shared economy. This fits perfectly with Goodvibe's framework, which is mainly related to the positivist aspect of permaculture. "Permaculture is also described as an ethical system that emphasises positivism and cooperation" (quote from M.Pilarski, founder of Friends of the Trees).
B-Chill meets Goodvibe
From the outset, the names of the two companies were a direct match and the basic attitudes also fit perfectly. Further similarities can even be found in the year of foundation. B-Chill, as well as Goodvibe, were founded in 2017 and the founders of B-Chill (Patrick, Steve and Benji) and I of Goodvibe, (Chris Meyer), are also in the same age bracket.
The theme of sustainability and positivism is very important in the philosophies of both companies and therefore also shapes the guiding principles according to which they operate. In both webshops you can buy carefully selected products, such as naturally produced CBD oil or high quality CBD flowers. In this way, we can contribute to making natural products a part of society again. With a range of quality CBD products, we create an alternative to the market flooded with synthetic products. 
There is no doubt that CBD oil can be a rewarding alternative for humans and animals. Especially thanks to the endocannabinoid system, which is present in all mammals, and therefore also in humans. You can find more information in our various blog posts. Enjoy your reading !
Do you like our blog posts? So don't hesitate to show them to your friends and if you want to read more, just click on the links below:
- Some interesting questions about CBD / Cannabidiol
- Which CBD Oil should I choose ?
- The entourage effect of cannabis: myth or scientific fact ?
- The benefits of using CBD while exercising and sport
- What si permaculture and does it help for growing CBD ?