B-Chill opens its new Swiss CBD shop !

The 1st CBD brand in Valais opens its doors to you !
B-Chill is a group of friends who, in 2017, decided to get started in CBD. In the process, we are developing our website, where our customers can find all our CBD flowers online, our CBD creams and oils as well as various accessories such as our grinders and Chill Size rolling papers !
We have also established partnerships with several kiosks, gas stations and other stores specializing in legal cannabis. Over time, the number of retailers who offer our cannabidiol products has grown, exceeding 200 points of sale across Switzerland in 2021 !
In 2020, we got a makeover and moved into new, bigger and more accessible premises. In view of the available space, a small CBD store has been set up so that our loyal customers can come and get their products directly from the source.
You can go there in person and benefit from personalized professional advice in choosing the right product (s). It is indeed easier for us to interact face to face with our customers rather than virtually. Not to mention the fact that to date, more and more services are automated and human contact is lost. It's true that automatic checkouts are "handy" when you're in a hurry, but on the other hand, the saleswoman at the local supermarket who has served us for ten years and who has been replaced by a machine feels neglected. Therefore, we decided to open a shop in order to be closer to our customers and be able to satisfy them as well as possible.
It's still more pleasant to go directly to the source to make your purchases of cannabis or wellness products, instead of ordering behind a screen and receiving an automatic email thanking you for your purchase of weed online, no ? Not to mention that apart from the quick and practical side, you also benefit from the great smile of our salespeople as well as tailor-made advice !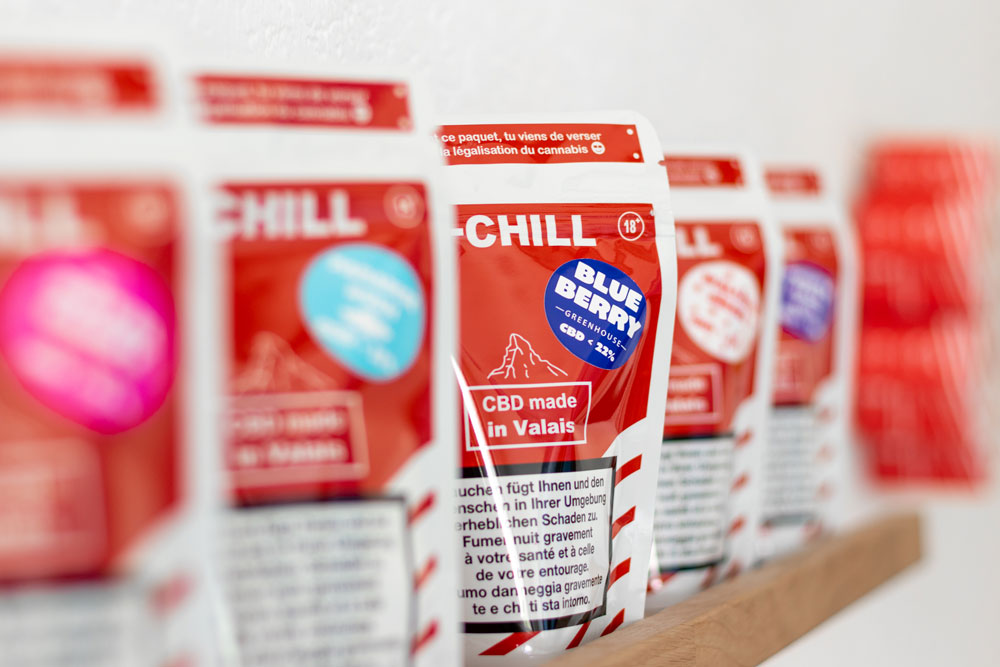 The CBD Shop in Sierre : Where ? When ? How ? 
Our CBD shop is ideally located in downtown Sierre and very easy to find! It is located a 10-minute walk from the train station, in the Liddes district. For those who come by car, you will find white parking spaces right in front of our store.
The entrance is between the Amavita pharmacy and the dog grooming salon. On the window of this lounge there is a large poster indicating that B-Chill is on the third floor of the building. In this same window, you will see the sachets of our best CBD to make your mouth water. All you have to do is go upstairs and come and discover the shop!
Our Team B-Chill welcomes you Monday to Friday, 9 a.m. to 6.30 p.m. non-stop! So if you want to come see us during your lunch break, it would be a great pleasure! When you arrive in front of the shop door, you will be able to read a little quote that will surely make you smile. I say no more, come see for yourself. Once there, our team will advise you and give you the necessary information, so that you have all the information to make your purchase of swiss CBD. When it comes to smoking CBD flowers, we provide you with cute little sample jars so that you can see and smell the scent of each strain that interests you !

Swiss CBD products and services
We offer you a total of 14 different varieties of CBD to smoke, ranging from our inexpensive CBD flowers to our varieties which are among the best CBD on the market! But that's not all: You can also get Full Spectrum CBD oils with different percentages to take sublingually, as well as Broad Spectrum CBD oil without THC for the recovery of athletes !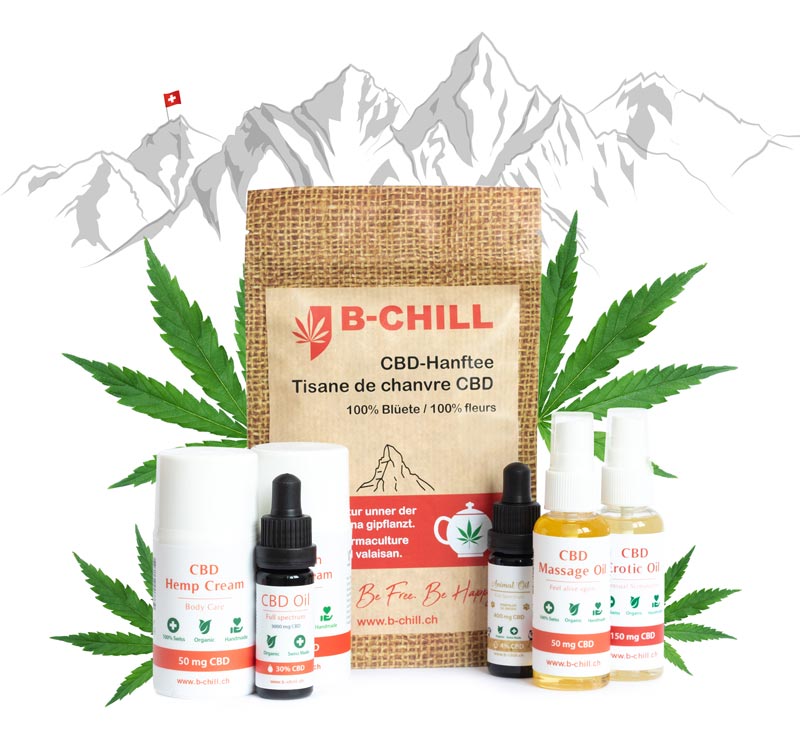 For those who like to take care of their skin, we offer two natural CBD creams to apply on the face or on the body. Massage oil and erotic oil ideal for relaxation are also available. A more natural and safer alternative for your skin to have a great evenings.
Finally, a great selection of accessories, such as grinders, lollipops, blunts, rolling papers as well as t-shirts and sunglasses are waiting for you in our CBD store! You will find everything you need at your favorite Swiss CBD Store !


What is Swiss CBD exactly ?
In recent years, we have slowly started to (finally) decriminalize the consumption and sale of CBD, even if it is far from over. Most of the time, people's fear of cannabidiol sativa is due to lack of information or their view of CBD as a drug. However, cannabidiol has no psychoactive effects. On the contrary, according to numerous recent scientific studies, CBD could be beneficial for many health problems!
A pilot project is underway to distribute high THC recreational cannabis in Switzerland and analyze the effects on different people. All of this will of course be supervised and controlled, but anyway, it's a big step for the cannabis world! If you still have doubts, questions or apprehensions about CBD but would still like to try it, I just have one tip for you: Go to B-Chill! The team will be happy to reassure you, answer all your questions and offer you a product that suits you, making your purchase of cannabidiol simple and effective! Whether you're looking for the best CBD, inexpensive CBD flowers, or cannabidiol infusions; there you will find everything you need if you want to buy weed online !
Do you like our blog posts? So don't hesitate to show them to your friends and if you want to read more, just click on the links below:
- The entourage effect of cannabis: myth or scientific fact ?
- Which CBD Oil should I choose ?
- Does CBD help with hay fever and allergies ?