Does CBD help with Covid-19 ?

Is cannabidiol effective against Covid-19 ? 
This may seem like a strange question, but it is! Recent studies seem to indicate that it may well be possible! We'll tell you more in this article.
So what exactly is going on in the research world? Well, two studies, conducted in Canada at the University of Waterloo and in the US by the Linus Pauling Institute in Oregon State respectively, suggest that cannabis may help fight the Covid-19 virus. « The researchers found that cannabidiol (CBD) increased the antiviral response of cells to three key proteins produced by the SARS-CoV-2 genome, which was, until now, an unknown effect, » the University of Waterloo said in a press release about its study.
Dr Robin Duncan explains that the various cells in the lungs and digestive tract are capable of activating an immune response in the event that they detect a virus that has entered their area, even before the immune system! This forms the first line of defence for our body. Unfortunately, in the case of Covid, the response is not good enough, resulting in the high number of infections we have been experiencing for the past 2 years. But if there was a way to boost this response, then theoretically it would be possible to increase our body's immune response !

CBD to boost our immune system
« In cells that had not been exposed to SARS-CoV-2 proteins, CBD in therapeutic amounts appeared to prime the cells' innate antiviral system, thereby increasing their ability to respond to viral infection, » explains Dr. Duncan, lead author of the study. She also cites another study, Cannabidiol Inhibits SARS-CoV-2 Replication and Promotes the Host Innate Immune Response, published on the BioRxiv.org website on January 11, 2022, which concludes that people with certain forms of epilepsy who take CBD as a medication or therapeutic treatment are much less likely to become infected with Covid.
This is what the study said: « A cohort of human patients taking CBD had a significantly lower incidence of SARS-CoV-2 infection. » This study, like Dr Duncan's, is still awaiting review by other researchers around the world. This information should be treated with caution until it has been definitively validated.


Blocking Covid with cannabidiol ?
The second study, by Dr Richard van Breemen of the Linus Pauling Institute, Oregon State University, concluded that certain chemical compounds in cannabis help weaken the Covid virus in the human body. According to him, CBD-A and CBG-A appear to be particularly effective in blocking Covid entry into human cells by binding to the virus' spike protein. « Cell entry inhibitors, such as cannabis acids, could be used to prevent SARS-CoV-2 infection and also to shorten infections by preventing virus particles from infecting human cells, » he said.
The next step of the study would be to prove this result by starting clinical trials on patients in their region. Unfortunately, laboratory tests on cells cannot take into account the complexity of the human body, hence the need for these trials to verify the effectiveness of cannabidiol (CBD) against Covid, and to confirm that CBD can indeed help defend against the virus. This is a lengthy process that should take between 6 and 9 months according to Dr Breemen. In addition, they will also need to consider which forms would be best for treatment, what dosages and at what intervals. There are many questions that should be answered in the course of the year. In any case, we will be following the progress of these studies and trials closely. Who knows, maybe CBD will help us get rid of this virus once and for all !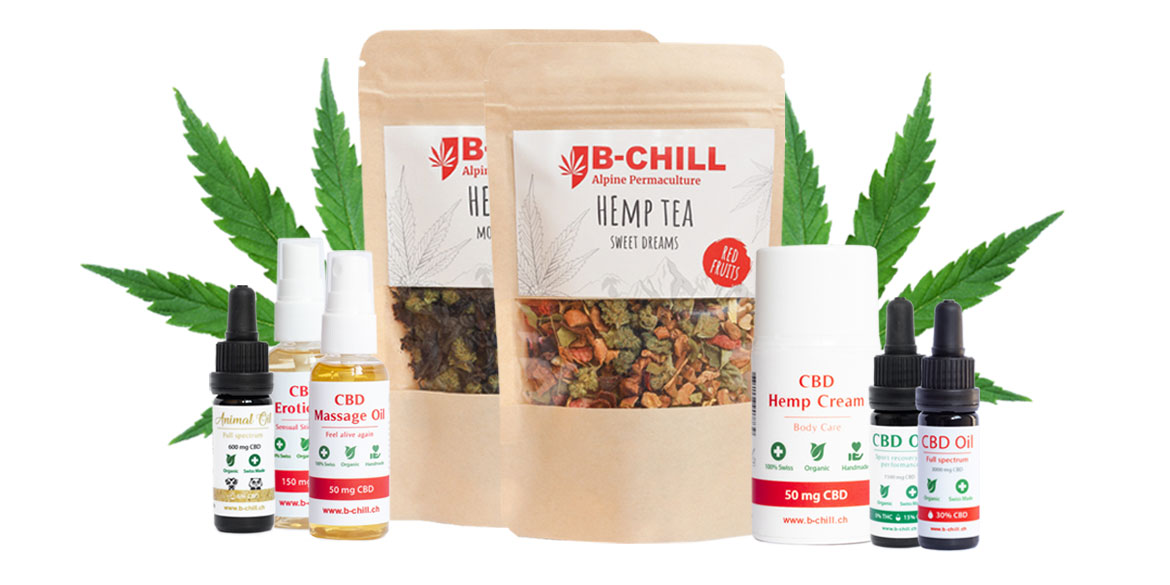 CBD oils, creams and flowers grown in Switzerland !
If you are looking for CBD products, I invite you to discover our online shop at www.b-chill.ch. You will find CBD buds, creams, herbal teas and also oils with 5%, 15%, 20% and even 30% CBD. Our plants are grown in permaculture in the Swiss Alps in the heart of our beautiful sunny Valais. They are treated with a lot of respect and love. Do not hesitate to contact us if you have any questions or remarks. Our team of young chillers will be happy to answer you and explain everything you would like to know. Have a nice day and see you soon !
Do you like our blog posts? So don't hesitate to show them to your friends and if you want to read more, just click on the links below:
- Some interesting questions about CBD / Cannabidiol
- Which CBD Oil should I choose ?
- The benefits of using CBD while exercising and sport
- What si permaculture and does it help for growing CBD ?